Surviving a retail recession: Make your lease work for you
A recession in the retail industry brings with it the need for a change in retail leasing mentality, or a 'retail lease reset'.
The current retail environment
The last few months have seen some dire forecasts for the Australian economy come to fruition, as the economy slumped to a per-capita recession in May.
Initially, this was attributed to drought, lower mining investment & a decline in residential construction. However, the NAB's Monthly Business Survey for May 2019 has pointed the finger of blame squarely at the retail sector.
The report goes on to describe the retail sector as being 'clearly in recession,' and comparing the current deterioration in the industry to that experienced during the GFC. This is despite a slight rise in business confidence and record-low interest rates.
Obviously, this is going to impact upon retailer's ability to pay all the rent described in their retail leases.
The argument for a rental reset
With NAB's chief economist stating that 'discretionary retail has been terrible for a long time' and growth in the sector so poor it actually manages to counterbalance the mining sector in WA, the question has to be asked, how can shopping centres justify fixed 5%pa rent reviews?
JLL researchers addressed the need for a 'rental reset' in April 2018 in an attempt to attain 'more sustainable occupancy cost ratios.' Yet here we are 12 months later with ever-swelling rent levels, decreased capacity to pay due to recession, and Landlords refusing to budge on fixed increases – despite watching vacancies quickly spiral in most centres.
Now more than ever, it is important for retailers to have representation to help negotiate their retail lease. Shopping centres are increasingly desperate, willingly signing tenants up for leases at rent levels they have little capacity to pay. Typically, vendors struggle to turn a profit in the first year of a lease. There are, of course, exceptions, but usually it takes some time for a business to settle in, find its niche and establish a consumer base.
In a retail landscape undergoing contraction, how can you turn a profit in year 5 if you can't expect your business to be stronger than it was in year 1?
The outlook for retail growth
To provide a basic example on a new lease with rent reviews of 5% and 0% growth (which, if the NAB is to be believed, is currently optimistic) within 4 years you're making a loss on an initial profit of $20,000.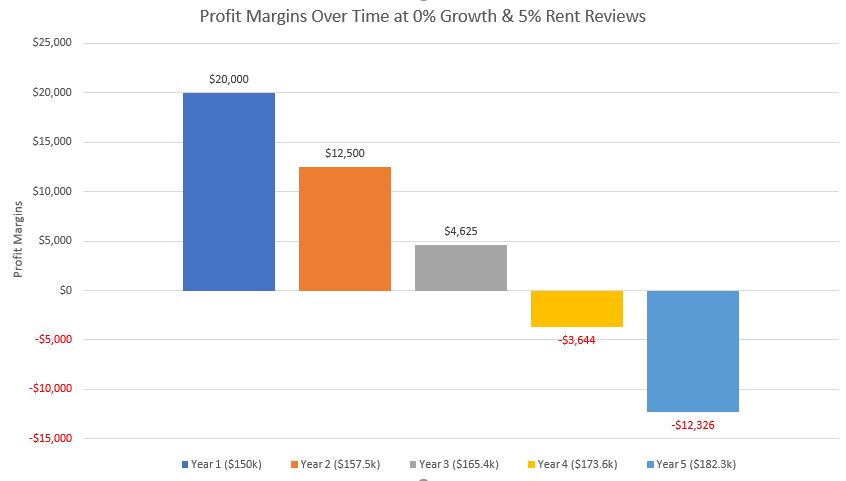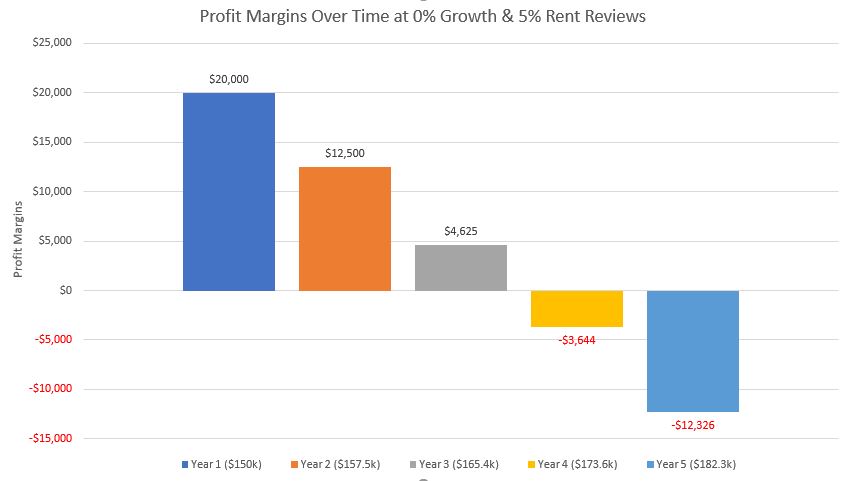 The above graph is an oversimplification as it doesn't take into account outgoings, rates etc., (more on these hidden costs in our article here) and assumes an immediate profit. But it does provide a helpful (if bleak) summary of the current retail leasing landscape, and illustrates that for owners, investors & fund managers to insist upon a fixed 5% increase, despite no growth in the industry, is to force the sector to consume itself.
Retail leasing agents help negotiate the pitfalls of lease negotiation. Currently, it's not always possible to alter the rent reviews, due in part to the greedy short-sightedness of many centres. However, having proper retail lease representatives can help ensure your occupancy cost is manageable in the first place. This gives you the best chance of navigating the potentially stormy economic seas ahead.
For information on how Leasewise can best assist you, call 1300 33 44 32 or visit us here.
By James Kolacz