Sumo On The Mat This Time
Peter Gothard and Morgan Kelly from financial advisory and restructuring firm Ferrier Hodgson have been appointed administrators of SumoSalad Group yesterday.
"The Administrators now control the Group's operations and are assessing the Group's financial position," wrote Kelly in a letter to SumoSalad's creditors in a letter.
The company's first meeting of creditors will be July 30.
Unsecured creditors' accounts will be postponed, pending the outcome of the second meeting of creditors.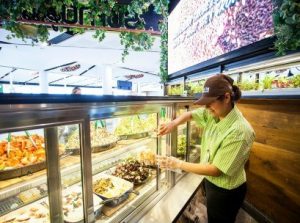 The appointment comes after various meeting and phone conversations between SumoSalad chief executive and co-founder Luke Baylis and Ferrier between June 25 and July 17.
Ferrier estimates fee for the administration process at $150,000 plus GST.
In June last year, SumoSalad put two of its companies into administration in order to protect the financial interests of some of its franchisees and force its retail landlord to negotiate over lease payments.
At the time, Baylis said putting two of its companies Sumo Westfield Leasing Pty Ltd and Sumo Leasing Pty Ltd, which hold leases of about 12 to 14 SumoSalad outlets in Westfield shopping centres, would not have an impact on the rest of the Sumo group, with the company's network of 104 stores still continuing with business as usual.
The negotiation of retail lease renewals by tenants has been a hot topic in the industry.
'Business as usual'
In a statement on Thursday, Baylis said that while the operations of the business would be in the hands of the administrators, he expected the 85 strong network of Sumo fresh food stores to continue trading as normal while the business is restructured – a process that is likely to take between 35 and 60 days.
Baylis said that Sumo has a healthy core business with like-for-like retail sales now growing in 'the high single digits'.
"However, the business has some legacy issues that has made ongoing trading challenging, despite the strength of the brand and the business model," he said.
"We now need to restructure the balance sheet to address these issues and give the business the strongest possible footing moving forward.
"We will look to propose a Deed Of Company Arrangement (DOCA) to ensure we can provide our creditors with the best possible outcome and plan to continue positive relations with suppliers and partners into the future."
Baylis said the long-term strategy is to progressively extend the brand into grocery, convenience and transport hubs.
The restructuring process does not affect stores owned by Sumo Salad Holdings in Western Australia.
Ferrier Hodgson has been contacted for further comment.